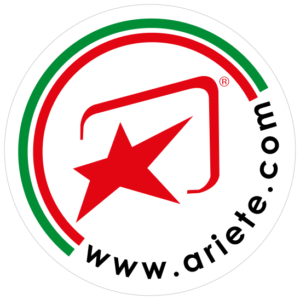 EXCLUSION OF LIABILITY
Ariete, ARI and Harri's products, while being of very high quality, may be subject to damage in case of impact or accident.
Before using Ariete, Ari or Harri's products, please carefully read the instructions for use and installation.
Sandro Mentasti Srl makes every effort to ensure that the information contained in this catalogue is correct and easy to understand, with some information specific to individual products, but accepts no responsibility for any misinterpretation. If you should require any further information, regarding assembly and/or conditions for use, please contact Sandro Mentasti Srl by e-mail at info@ariete.com.
In any event, Sandro Mentasti Srl is not liable for any damage to property and/or persons caused during the use of its products, and neither for any damage resulting from incorrect use and/or use other than that for which the product was originally intended, and damage resulting from assembly errors and/or incorrect installation.
Sandro Mentasti Srl manufactures its products directly, and markets them with the ARIETE, ARI and HARRI'S brands.
The use contained within the catalogues of any original product codes bearing brands other than those mentioned above is intended as merely descriptive, as well as the possible use of trademarks and / or names of other manufacturers (for example, PIAGGIO, HONDA, YAMAHA, SUZUKI, KAWASAKI, BMW, HARLEY-DAVIDSON, VESPA, KYMCO, BOS, DT SWISS, FOX, MAGURA, MANITOU, MARZOCCHI, ROCK SHOX, SR SUNTOUR, X-FUSION), which Sandro Mentasti Srl is in no way connected. The only purpose of this use is to describe the accessory and/or the part.
FITTING INTRUCTIONS
1) After removing the old grips, clean the handlebar ends and the twist grip assembly with surgical spirit or contact lens cleaner or another solvent such as alcohol.
2) Clean and lubricate the inside of the grip with water or surgical spirit, and then push it into place on the bar end without twisting the grip.
3) Do not use soap, oil or petrol.
4) Wait 120 minutes before using the vehicle.
5) Before operating the vehicle, check that the throttle twist-grip moves freely. Fully open the throttle by turning the grip towards you, and then release it. The twist-grip should turn freely, and return to its normal closed-throttle position.
If you have any problems or doubts, speak to a specialist mechanic, contact customercare@ariete.com, whatsApp +39 340 2326523 or telephone us on + 39 0332 310100 for advice.