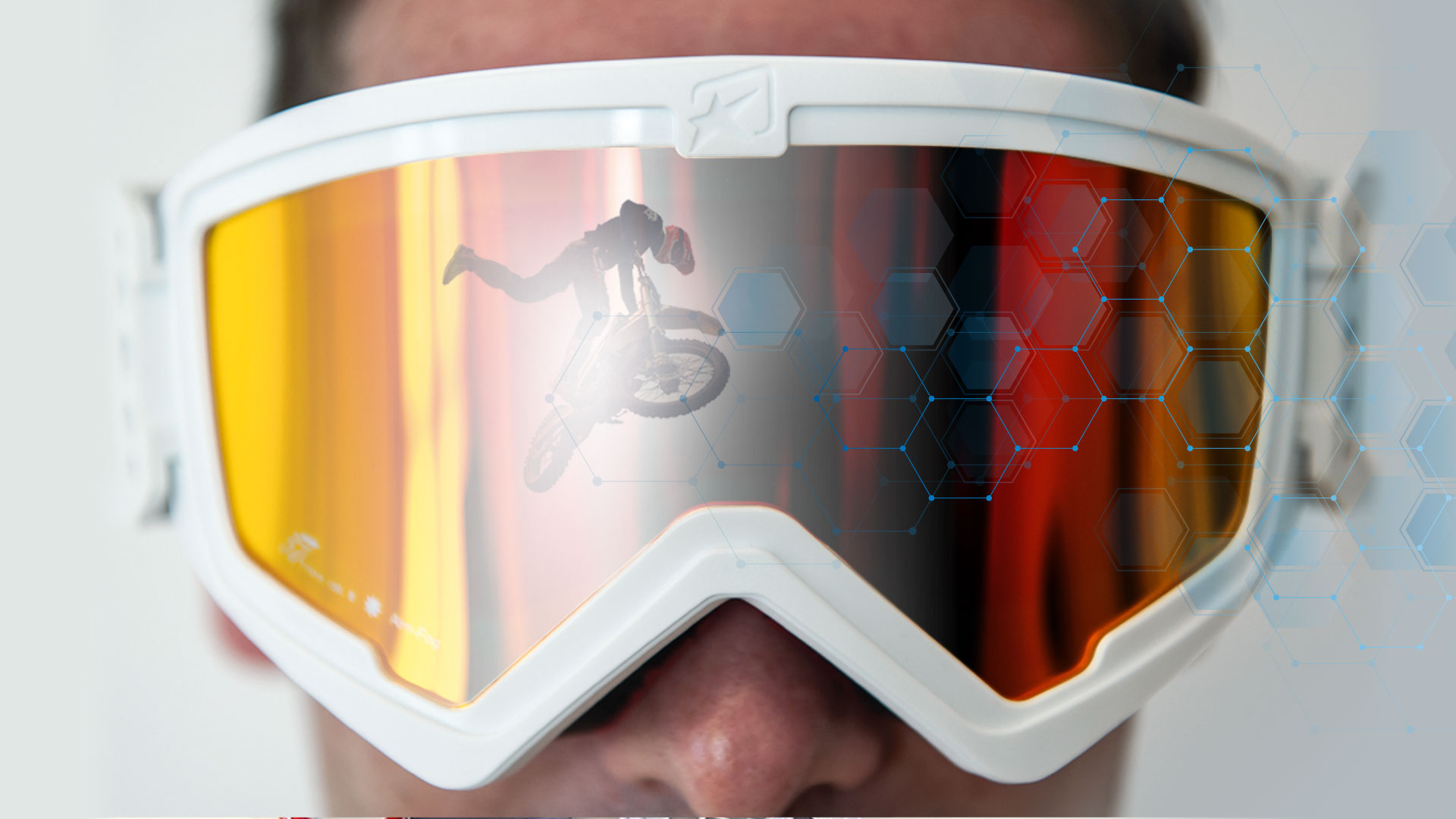 Goggle design starts with Goggle Optics Technology
Designing a goggle is a wonderful adventure that begins with placing yourself inside the customer's eyes and wondering how to offer benefits in terms of sporting performance and look compared to all the other "competitors".
The experience of Sandro Mentasti
The experience in the design of goggles gained by Sandro Mentasti allow us to offer maximum comfort, aerodynamics and above all safety for the eyes, the most precious asset.
Thanks to the incessant imprinting of research and development and the professionalism of our collaborators, we are ableto anticipate the technical needs of the sportsman of the most extreme disciplines, from rally in the desert to snowmobile races and to satisfy the refinements of the customer's details who wants to be recognized by uniqueness.
Made in Italy excellence, without compromise for material and style, always in line with the fashion trend
The R&D area of Sandro Mentasti has developed a design method that allows you to control all the unique elements of a mask:
ventilation system (A.V.S. Ariete Ventilation System)
foam structure and relative hypoallergencity
density of ventilation filters
 lens interchangeability program
approvals and certifications relating to the sector of destination
accessories and spare parts
frame design to increase performance relative to weight reduction
All of these elements are carefully considered and declined according to the sport to which the mask is aimed, an essential condition to ensure the user maximum comfort and safety.
In addition to the specific configuration based on the destination environment, Sandro Mentasti is able to customized masks with the customer's brand.
Thanks to the internal mold workshop, we are able to produce dedicated dowles to be integrated with standard frames or to create a totally unique line based on the specifications defined by the customer.
Other customizable elements are (among others):
graphics of the elastic
finishing of the claws
accessories
packaging
user manual
The skills developed internally with the production of the Ariete brand, allow Sandro Mentasti to manage the mask manufacturing process at 360°, from the feasibility analysis of the project to molding, certification and product approval, also on behalf of third parties.
Among the prestigious customers who have entrusted the production of their line of masks to Sandro Mentasti, we can mention established brands such as KTM, BMW and Bombardier.
If your company has the goal of creating a custom mask, contact the Mentasti Team Style Center.
Our goggle experts will be happy to accompany you along a path aimed at delivering excellent performance.